Follow @AboutBrum for more frequent updates, RTs and quick/snappy newsbites.
If you have updates, photos, videos or other info please send them in via the Tips page – or simply message @AboutBrum.
Also, a reminder to check out the Birmingham Riots 2011 tumblr maintained by Casey Rain. I've been reblogging images and updates including the ones he's been amassing, his site's been very excellent since Monday.
Saturday
Carol Ann Duffy's written a moving tribute to Tariq Johan. It's entitled, simply, "Birmingham for Tariq Johan."
After the evening prayers at the mosque,
came the looters in masks,
and you three stood,
beloved in your neighbourhood,
brave, bright, brothers,
to be who you were –
a hafiz is one who has memorised
the entire Koran;
a devout man –
then the man in the speeding car
who purposefully mounted the kerb …

I think we all should kneel
on that English street,
where he widowed your pregnant wife, Shazad,
tossed your soul to the air, Abdul,
and brought your father, Haroon, to his knees,
his face masked in only your blood
on the rolling news
where nobody's children riot and burn.
— via The Guardian
Paul Lewis has also had a remarkable week journeying around England; during his travels he encountered the Birmingham riots and has recounted what he experienced on the Guardian web site.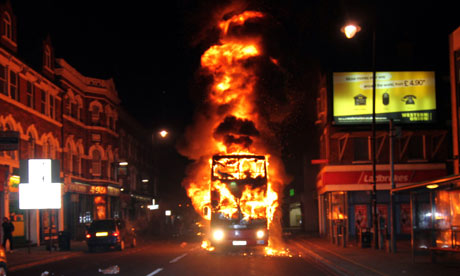 Image via The Guardian
Friday
17:27: Wow – an astounding 6,986% increase in visitors to About Brum since Monday! Thank you very much for choosing to use my humble web site to keep up to date on events in Birmingham. I make no money from this site; I only hope you've found what I've posted so far informative and useful. Stay tuned or subscribe to About Brum's RSS feed and Twitter account for further updates as they come down the wires.
17:13: An inquest into the Winson Green hit-and-run deaths was opened and adjourned today. Given the 'exceptional circumstances' surrounding the case, the coroner has announced that he will be releasing the bodies to the parents' relatives next week. The car suspected to be involved in the incident was found burnt out in a side street approximately 200 yards away from the crime scene. Police also recovered a second vehicle, also believed to be involved in the incident. It is likely that police will request extra time to detain the currently arrested individuals for further questioning; CCTV imagery obtained from the area may also prove useful.
Any individuals who have information or witnessed the accident are encouraged to come forward to West Midlands Police and have been guaranteed anonymity.
The Birmingham Magistrates Court also worked late again last night, with 13 individuals appearing in court 'accused largely of violent disorder, burglary and going equipped to steal.' (WMP press release). I also personally witnessed the arrests of several people last night on Colmore Row, with one individual charged with possession of a controlled substance and another individual on charges relating to this week's looting! So all in all, a nice way to round off things. That was the only bit of trouble last night; the entire town was pretty calm and very peaceful.
I spent a while last night walking and talking with officers patrolling the city centre – at once a very enjoyable experience and a fairly eye-opening experience. One thing which was clear was each and every officer has given their absolute utmost this week, with all rest days cancelled and 12 hour shifts put in place – many were also working extra hours unpaid, coming in hours early and leaving hours later – to support each other. They were all fairly exhausted – particularly officers who had fought against looters and rioters on Monday and Tuesday across Birmingham, then continued with beat duties and undertaking raids on suspects involved in the lootings. However, they were all very happy that their combined efforts had brought the situation under control and maintained the peace for everyone else.
West Midlands Police is also encouraging organisers of various smaller 'peace marches' on Sunday to postpone or join forces with the cross-community Peace Rally, due to take place at 3pm on Sunday the 14th of August at Summerfield Park, Dudley Road, Winson Green.
Thursday
18:23: West Midlands Police has formally issued an update on the further arrests following the hit-and-run deaths in Winson Green. Three people have been arrested on suspicion of murder; a 16-year old, 17-year old and man aged 26, all from Birmingham. The 32-year old man initially arrested following the incident has been bailed pending further enquiries.
Enquiries into the collision are ongoing — anyone who witnessed the collision or has information in connection with the incident is asked to contact West Midlands Police on 0345 113 5000.
16:52: A day of reflections. Many questions to be answered, including how the circumstances surrounding the Winson Green hit-and-run came about. Was it avoidable? Many things to be learnt from WMP's area-by-area response and whether analysis was undertaken correctly concerning any possible conflict between different communities. Still much to also be learnt about the person currently under arrest related to the case.
On the whole though, Birmingham is returning to peace with people surveying the scene. Wolverhampton's carrying on as normal, bar a few shops with boarded up windows. Damage mostly limited to a couple of sections of town, the Nisa near the railway station was smashed but still open for business as usual. The new railway bridge escaped completely unscathed, not a scratch on it!
In music news, AIM (the representative body of independent UK record labels) has worked furiously to put things in place to assist the indie labels who've lost all stock following the Essex SonyDADC warehouse blaze. On Tuesday, they put out a call to action urging fans to support their favourite artists and labels to help them survive the crisis – read it in full on the A2IM site. Today, they announced a fund to help those labels:
Following the devastating fire on Monday night at SONYDADC's Enfield facility, which destroyed the stock of hundreds of independent labels AIM and [PIAS] have been working together to coordinate the extraordinary number of offers of help which have been pouring in from across the world. This morning, we are announcing the creation of a fund to help independents affected by the catastrophe. They will be able to draw upon the fund to help cover the interruption to their business and the cost of getting back onto their feet.

The fund is being provided by some of AIM's larger member labels, other well wishers and from AIM's reserves, and will be made available to affected smaller labels pro-rata to labels' [PIAS] turnover this year, as required.
[PIAS] are first and foremost focused on supporting their labels. AIM will be coordinating the fund, and also other offers of help in the form of promotions and benefit gigs.

Alison Wenham commented "the independents will survive this disaster, as they have survived other business challenges. We represent a community which has a mutual respect for the work of all indie labels, be they large or small, and the industry needs to nurture and protect these small companies in times like this. We wish to thank everyone in the community for their generous and unfettered support".



Martin Mills, Chairman of the Beggars Group, said "Larger labels are much better resourced to weather this storm – but small and new labels are the future and need support from their peers to see them through this crisis ".

Daniel Miller, Founder, Mute said "Following the sad events surrounding the fire at the Sony DADC warehouse which houses [PIAS]'s physical distribution, it is crucial that the independent community stands together to ensure the ongoing business of the labels so badly affected. Mute supports any initiatives that will enable this to happen."


Details regarding how to contribute and who to contact:
Anyone wishing to contact [PIAS] and AIM in respect to this fund should email labelsupportfund@musicindie.com
12:15: West Midlands Fire Service has published some photos from the Nechells scrap metal recycling plant yesterday. Over 100 tonnes of shredded scrap metal was well ablaze – and when metal is on fire you know it's hot!
WMFS also have an ISIS unit which they deployed for some remarkable 'skycam' aerial imagery:
More details and images on the West Midlands Fire Service web site.
12:14: Cameron currently leading an emergency recall of Parliament; beginning to get a little fractious. Watch live, either on BBC News online or ParliamentLive.tv.
02:37: Rumours of a Gurdwara in Derby on fire are completely false. Silver Commander Superintendent Kul Mahay has visited the site (a former pub on St. THomas Road) and confirmed that a small fire was set but no damage done. Minor fire and smoke damage.
From the Sangat Television Justin.tv chat earlier:
soldier89: just got back from the so called burnt down gurdwara
gss9: soldierrr89 khidddaaa u good?
soldier89: yeah man
gss9: soldier wuts the situation no fire?
chris131084: well I'm clearly not
soldier89: its an old pub that is currently being converted into a gurdwara. 6 kids broke in and started a small fire inside
gss9: ohh i seee
soldier89: police and fire service got there fast
fayce: prove it
soldier89: 1 witness, no arrests
gss9: ya thanks soldier89 for clearing it up
01:21: West Midlands Police have just tweeted out:
Malicious text message circulating about mosque being firebombed in Birmingham. This is untrue.
Sky news still have a correspondent with live breakaway coverage of the candelit vigil in on Dudley Road. They're also showing a VT about the murders, worth a watch if you have Sky TV. (you can currently watch online for free via the Sky News web site).
Wednesday
21:45: Dudley Road, Winson Green
I live nearby, so I decided to visit the scene of the accident on Dudley Road where Haroon Jahan, Abdul Musavir and Shazad Ali were killed last night. When I arrived about 200 or so people were milling around, talking amongst themselves – I must've stuck out like a sore thumb as one of the only white people there but I was greeted warmly and fell into discussion before most people went to the local restaurant or nearby houses to break fast.
Quite a sad moment, people around were voicing their anger and a few people were frustrated that they felt treated like terrorists or criminals – but there was no intention of anyone going to stir up trouble. Police presence was moderate but low-key; one (who said he was drafted in from Worcestershire) said they were there mostly to reassure and help anybody who might need assistance. I felt very safe.

"I am sorry for the lack of humanity"

Skid marks from WMP's assessment of braking distance at the accident site. Plainly visible at 9pm.

Earlier today, whilst Dudley Road was closed (via The Guardian)

Just two of the numerous camera crews all reporting from the scene

The immediate vicinity at dusk, as people drifted away to break their fast

Officers surveying the scene and looking for evidence earlier today (@PatFenelonITV via Twitter)
If you want to use any of these images please do so, please just link back to AboutBrum.co.uk so I can see where they get used. (Non-watermarked print quality available for press/media upon request.)
"Blacks, Asians, Whites, we all live in the same community. Why do we have to kill one another? What started these riots and what's escalated them? Why are we doing this? I lost my son. Step forward if you want to lose your sons. Otherwise, calm down and go home."

— Tariq Jahan, whose son Haroon was one of the victims of the hit-and-run last night
19:19: The Bullring's board(ed up)… geddit?


(@Carl_Poulton via Twitter)
18:11: An exact transcript of a message circulating on BlackBerry Messaging:
'everyman keep off the road tonight, Birmingham is going to be madness, people from london, leicester, derby, manchester to f**k up birmingham of them 3 asian guys that got killed in winson green there coming to riot hard and i don't want no one to lose their life because of it, stay in your yards and pass this on'
(via Casey)
The Bull stands guard.

17:45: After a relatively quiet afternoon (with just an unrelated fire at a Nechells metal recycling plant) most attention has been focused on what might happen tonight. On Sangat TV, people have been expressing their anguish and determination not to let things boil over into violence as many are fearing it might. Reports of EDL and BNP attempting to capitalise on the friction – perhaps by bringing in supporters into the city to incite violence – are thus far unconfirmed, as are the rumours of Birmingham City fans ("Zulus") arriving in town to help defend it against rioters.
Pershore Road has apparently been blocked by police in both directions between Edgbaston Road and Belgrave Middleway due to a 'police incident'. Riot vans are amassing at a police bases in preparation for anything which may happen tonight.

(ChrisHalpinITV via Twitter)
The city feels like it is bracing for another evening of violence… More updates throughout the evening. In the lull, give this a read: a report by 23 year old James Taylor, caught in the middle of the riots whilst filming on Tuesday.
The earlier fire at the Smurfitt Hawkswood Metal Recycling Plant


(lord_apricot on Twitter)


(BeckyJohnsonITV on Twitter)
So… It's been a tumultuous night. Uneasy calm at the moment, @RobSmithUK says, "Bham New Street looks battered and bruised. Lots of boarded up windows. #BirminghamRiots". Much discussion needs to be had re: police strategy, policing numbers, balance of allowing looting and criminal damage and whether water canon and baton rounds should have been sanctioned earlier by Cameron & co.
The killing of two brothers and a third friend in cold blood on Dudley Road last night is being treated as murder by West Midlands Police. Appears to be a clear-cut hit-and-run. An eyewitness explained in a BBC WM news report, "the car came flying, took out three of us, flying into midair. Then it drove off – it intentionally mounted the kerb, it was gone within five or six seconds." A 32 year old man has been arrested on suspicion of all three murders and police investigations are ongoing.
12:30: Smoke blowing across M6 in vicinity of Aston Expressway Aston Church Road closed (due to the Nechells metalworks fire) between A47 Heartlands Parkway and Chartress Road.
A417 Dudley Road in vicinity of Cavendish Road expected to remain closed until at least 16:00 according to WMP.
04:40: Upinder Randhawa, presenter with Sangat Television, has confirmed with sadness via Twitter that the third Hussein brother has died as a result of his injuries, making a total of three deaths as a result of the earlier RTA on Dudley Road. Very sad news.
Watch Sangat Television on Sky 847, or online at http://www.justin.tv/ravztv or http://yycast.com/ali121.
03:33: reading that an official media blackout has been agreed upon and imposed by BBC & Sky. Makes a lot of sense if you consider the massive lack of updates on what is a very fast-paced situation in London in particular (and the deaths in Birmingham!) From DigitalSpy:
From tvforum.co.uk

There is an Official Media Blackout! I have had official confirmation from 2 sources, both at BBC and at Sky. It is an UTTER DISGRACE that the majority of us is not being told of the real picture. I have friends in various parts of London who are absolutely distraught at what's going on…

Manchester is a mere 'diversion' as to what's taking place country wide.

I am absolutely appalled at this 'starvation' of news…. These 'mindless' 'child' like thugs DO NOT watch the news networks for logistics or excitement as to where the riots are happening…. An D / DA Notice is not valid here!

Formerly News RoomPosted: 9th August 2011 11:14pm #483
03:10: The amount of independent reports and circumstantial evidence makes it fairly easy for me to now say this with certainy: two British Pakistani men have now died in City Hospital (the Hussein brothers). The two brothers, along with a third member of the same family, were run over in the Dudley Road area adjacent to the Jet petrol filling station (BBC WM) during earlier rioting. Full circumstances are still being clarified. The third individual is still in critical condition. West Midlands Police have confirmed three people were taken to hospital following an RTA:
We can confirm reports of a road traffic collision on Dudley Road.3 men in hospital.Officers investigating the incident at presentless than a minute ago via HootSuite
Favorite
Retweet
Reply
West Midlands Police
WMPolice
Twitter is ahead of the curve as usual so search for #birminghamriots for uncensored news.
02:22: Off to bed now, going to keep monitoring the news feeds until I doze off – more tomorrow. Sky News currently has updated features and some new interviews with people who've suffered at the hands of the thugs and looting, worth a watch. Keep an eye on Casey's Birmingham Riots 2011 blog too.
02:19: Birmingham Coach Station is no longer accessible. All National Express coach services will now arrive and depart at Five Ways, Edgbaston. Please see the schedule [on the National Express web site] for specific travel information.
02:16: Reports on Casey Rain's tumblr that a police officer has been shot in Aston and two British Pakistanis have been murdered in the Dudley Road area. TAKE THIS WITH A BIG PINCH OF SALT, currently unverified.
02:15: one individual's decided to try and sell his (completely broken) looted TV on eBay. For £80 + delivery.
02:10: Will Oliphant from the Birmingham Post & Mail has posted his video report on Day 2 of the Birmingham disorder. Earlier on the 9th, police conducted raids to arrest some of those responsible for Monday's violence.
01:47:


TAKEDOWN OFF THE TOP ROPE! It seems that karma is not withot a sense of irony. (Yes, I'm aware this is from Canada a few years ago – if only British riot police were authorised to utilise such tactics 😉
01:27: Barton Arms pub in Lozells has been bricked, windows gone, riot officers inside.


(via @CharlotteITV and @JayTDWP on Twitter)
00:40: Reports of "a shooting" in Aston. LOTS of hearsay. May just be gunfire, may be attempts to shoot police. Casey Rain's blog has an email submission which reads,
"police have lost control in the aston/lozells area Asian youths have started to beat up the looters police outnumbered the looters don't know where to run"
Take this with a BIG pinch of salt. In good news though, Harborne high street was completely deserted when I drove down it at midnight.
Tuesday
23:54: Foreign students snap video of riots through central Brum (taken from the private student accommodation building opposite the (former Matthew Boulton College) Birmingham Met College faculty (next to Millennium Point on Curzon Street):
23:47: another shot of the Hat Man store 🙁

23:10:

23:06: Via @Rolo_D on Twitter, the smashed entrance to Birmingham Crown Court (opposite the old Virgin Records shop unit on Corporation Street):

23:03: Sarah Falkland was live on BBC WM just as this happened:


Richer Sounds, Smallbrook Queensway, RIGHT before the police rocked up and scattered the scumbags.

22:51: 3,000 people affected in Yardley when someone broke into a substation; problem now fixed and power back.
Periodic scuffles and occasional looting around town, Bullring VERY secured with guards and dogs.
Richer Sounds on the Smallbrook Queensway was broken into and looted at ~10pm, just as BBC WM reporter was phoning in for a live segment – police arrived and they scattered with TV equipment. Cape Hill ASDA has groups of youths gathered round, HEAVY police presence.
Sangat Television (UK: Sky 847; Europe: 9/14/210, Astra 1A 5.1E, Frequency 12523 Sr 27500 Vertical (V) and http://justin.tv/sangattelevision) is continuing to show rolling coverage from earlier today combined with live broadcasts from certain parts of the city. They have confirmed to me via telephone that all Sikh Temples are currently ok, members of the community are guarding them like yesterday. They are aware of the lack of audio on their web stream – engineers are currently trying to fix it, but I can imagine that it's not their top priority!
20:46: … has it come to this?

20:43: more excellent coverage on BBC WM. A caller in to the show called Katy described a scene she witnessed earlier (I paraphrase):
From the top of island by Corporation Street she reported witnessing about 200 youths, faces covered, dressed in black, ran to the Hat Man shop, smashed glass and ransacked it. Riot police just stood and watched. The youths then smashed the Tesco Express window, stealing all the alcohol – police still standing videotaping events. Youths then kicked shutter in for Post Office, stealing cigarettes, scratchcards etc.

After getting back into her car, she headed down a road towards the childrens' hospital to be met by a wall of youths – whereupon she was threatened by one armed with a brick who pointed at her and instructed her to drive back the way she'd come or her car would be bricked.

This was about "an hour and a half ago" – approx. 19:15.
18:50: Leaving Wolverhampton now to head for home (Bearwood). Flamethrowers installed on car just in case. Search for 'wolverhampton' and '#birminghamriots on Twitter. BBC WM in West Brom reports that police believe only 40-50 hardcore troublemakers roving and causing actual trouble, other people are onlookers / curious locals.
18:48:

MEDIC! BARRIER DOWN! (scroll down to 18:20 for the 'Before' shot)
18:32: RUMOURS of things kicking off in: Kidderminster, Reading, Coventry, Derby… Can anybody substantiate these?
18:26: Darren Cooper, leader of Sandwell Council: "burnt out car and van deliberately strung across West Brom high street. Police have it well under control." (BBC WM)
18:25: What the UK's currently shopping for on Amazon UK…


Damaged stores in Wolverhampton centre. (Believe to be Darlington or Queen Street)
18:20: Makeshift barriers in Bullring entrances (via Casey's BR2011 tumblr)

18:18: Seven more warrants executed against houses in Birmingham relating to thefts of high value clothing and goods. Brings arrest total to ~165 (by my estimate).
18:17: traffic report basically says it's horrendous getting out of Brum. However, J6 M5 is ok and most of the arterial routes out are fine once you've cleared the centre of town.

A Coral shop in Wolverhampton.
17:59: Wolverhampton town centre is basically full of teenagers.
https://www.facebook.com/video/video.php?v=10150259071131776
http://yfrog.com/khxa9abj
sporadic looting (via @kenny_mach / @KICfm)
Casey with the same vid from Wolverhampton centre but in higher quality:
17:49: Uber Politics: "Trouble appears to be brewing in #Wolverhampton: twitpic.com/63i7l9, twitpic.com/63i7lb, twitpic.com/63i7lh"
17:48: Eastside Projects: "Getting word that gangs of hoodies are heading into the centre & police are planning to block off Birmingham again!"
17:47: Wolverhampton ASDA by the Molineux is apparently on fire. Sporadic flareups of violence in Birmingham centre around Victoria Square / fountains (where BBC Big Screen is) in Birmingham, riot police are protecting the ITV broadcast truck.
17:02: Basically, avoid EVERYWHERE at the moment. Just in case.
17:00: Apparently people getting injured from others letting off fireworks in Wolverhampton town centre. Idiots.
16:40: A little humour sir? The Photoshop Looter is here to supply.
The Bull was at least in place earlier 🙂

16:02: Councillor Mike Whitby says the looting was "shameful." (BBC WM) "You can just see greed, people breaking the windows and stealing…" Also calls for a curfew in Birmingham centre this evening. Don't think that'll be too hard to implement. Riots in London and Birmingham already labelled the 'worst in living memory'.
CtrlAltxDefeatx has some videos on YouTube.
15:50: some photos from earlier…


Orange mobile phone store, this morning.
@RodYDO also has some good photos from the town centre earlier today:

H&M being preemptively boarded up.
15:42: things kicking apparently. Reports on BBC WM of people leaving West Bromwich as stores like Boots are being boarded up, most likely preemptively.
Casey Rain from the Brum Riots tumblr:
…[avoid] Wolverhampton city centre, Chelmsley Wood shopping centre, Northfield, Jewellery Quarter, Broad St, Dudley and West Bromwich. It appears as if these are mostly precautionary as there's "a strong possibility" of trouble in these areas and police are monitoring the situation.
Casey has also apparently recorded a piece for BBC Midlands Today which will get aired "at 6PM or so, although if there's serious trouble by that time it may not get shown."

Fire damage at Handsworth police station.
Broad Street, Jewellery Quarter, Bullring closing early. Birmingham centre will be a ghost town tonight.
14:07
Chief Superintendent Chris Sims' press conference is available on YouTube:
West Midland Police's Operation View – identifying particular troublemakers from Monday – is now in full swing. If you recognise any of the individuals shown in photos on the West Midlands Police web site please contact them.
In connection with the serious disorder in Birmingham city centre last night, Monday 8 August, West Midlands Police have a number of CCTV images from locations across Birmingham city centre of people they wish to trace.

Anyone who recognises any of the individuals in the images is urged to ring freephone number 0800 096 0095 or local rate 0207 158 0125 – alternatively, e-mail tellus@west-midlands.pnn.police.uk
13:45: More good updates from Casey Rain (via his BR2011 tumblr). A forwarded email from someone working in a business above Corporation Street:
Dear All

We are gathering information now that:-

1) nobody should go out of the building for lunch unless they absolutely have to.
2) crowds of yobbos are gathering in different areas.
3) Some government offices are closing at 4.00 as information of rioting may take place then.
4) Some law firms are closing early.

– Email from the CEO where I work, just above the jessops that was looted in Birmingham.
13:40: Cybercandy being attacked & some interviews with people on the streets:

Maplin, from earlier

Yobs attacking storefronts


(via BR2011.tumblr)
11:38: AIM (the Association of Independent Music) has put out an emergency notice relating to the PIAS (Sony) Enfield distribution centre, destroyed in the nighttime blaze:
EMERGENCY NOTICE – PIAS ENFIELD DISTRIBUTION CENTRE

URGENT BULLETIN: To all member labels affected by the destruction of the SONY DADC Distribution Centre in Enfield which houses the PIAS roster of distributed labels: we are here to help.

Please email james@musicindie.com with your immediate concerns. We are gathering as much information as possible and will be able to help labels affected once we have a clearer picture of the immediate consequences, the insurance position and where we can represent you in the coming days and weeks.

This is terrible news, but we know that all our members will come through this.

We will be in touch later in the day.
11:07: David Cameron making speech on steps of Number 10. Parliament is being recalled for a day on the 10th of August. "Not only are you wrecking your own communities, you are potentially wrecking your own life too."
Updates from overnight trickling in have indicate ~100 arrests in Birmingham, two-dozen reported injuries.
Other news coverage:
More updates throughout the day.
Monday
03:39: Mr Tun It Up on TwitVid has LOTS of raw footage, including the McDonald's attack and various other looting:
http://www.twitvid.com/FWMWJ
http://www.twitvid.com/U598G
http://www.twitvid.com/AZNAM
http://www.twitvid.com/LSY5C
http://www.twitvid.com/RCD05
http://www.twitvid.com/QWIOT
and Steven Wilding:
http://www.twitvid.com/617UH
Redbrick (from the Uni of Birmingham) cranked out this interactive map showing all the trouble hotspots:

View The Birmingham Riots in a larger map
and also published their minute-by-minute update showing how the violence spread on the 8th.
03:23: some updates via RedBrickPaper.co.uk:
Adidas store, gutted.

West Midlands Police is reopening its Press Department at 06:30 with a press announcement shortly after.
@CaseyRain (aka the guy updating birminghamriots2011.tumblr.com) is going to be on BBC WM later (early morning Tuesday) talking about events. I'm going to grab a couple of hours' shut eye but will keep half an ear open for new news. See you tomorrow.
03:12: leading article from BBC Midlands Today, yesterday evening:

02:48: video from earlier showing looting and rioting in central Birmingham:

ITN raw footage from Corporation Street:

TheGreatPaulJones on YouTube with raw video 1:

PipiLangStrump captured the start of the rioting as she walked through the middle of town:

01:52: West Mids Police have issued an update on the disorder in Birmingham:
West Midlands Police continue to tackle the disorder occurring in Birmingham this evening. Several premises have been attacked with some shop windows smashed and property stolen in various locations in the centre as well as some surrounding areas.

Around 100 people have been arrested so far for various offences including violent disorder and aggravated burglary, and are currently in custody. A significant number of these arrests are of young people. There have been no reports of any major injuries to members of the public or police officers as a result of the disorder.
The full press release can be found at http://www.west-midlands.police.uk/latest-news/press-release.asp?ID=2388.
01:48: Summerville Road currently closed as building is on fire (BBC WM travel news).
01:46: "Lorraine", a caller on Sky News, talking about casinos in central Brum being raided with employees being locked in basement; telling harrowing story of being mugged in the shop in the Pallasades where she and two other employees were working. Awful!
01:27: Stills from Sangat Television, broadcasting live from Soho Road: http://yfrog.com/hs4r4rp http://yfrog.com/kh8vwp http://yfrog.com/gzfcqqp (from @AboutBrum on Twitter)
01:19: from the BR11.tumblr:
Police station fire in Handsworth confirmed. Also reports of looting at Cash & Carry on Nineveh Road and elsewhere around Handsworth. Reports of trouble in Northfield and Selly Oak as well as the gay quarter in city centre where a man was apparently attacked by a gang of people and stomped on before being pulled to safety by a passing car, outside of the Missing Bar.
01:16: Peter Douglas Osborne, councillor for Weoley Castle, spoke to BBC WM on the phone. Whilst entering Birmingham city centre he had to alight from the train and walk through the centre. He reported,
"it's far more calm now, we had reports on the train as to what it was like. In comparison with London which is horrific, this just seems to be youngsters that've thought they've got the opportunity to steal and with the background they've got I'd think they thought 'if you can get something for free why not pinch it.'" 'Police doing a good job, they are limited however in how they can deal with these youngsters. Kids out for what they think is an opportunist gaining of goods. Society is not yet ready to deal with them in a way which could stop this quickly. I'd rather we kept to a reasonable response, it must be fair but it mustn't go over the top beacuse that would give a lot of older people an excuse to come out looting.'

(paraphrased – forgive any slight abbreviations, I was typing whilst he was talking.)
01:00:


Pandora Jewellers, smashed and looted. Good job they had good internal barriers.
00:54: from the BR11.tumblr:
DjBenM on Twitter reports that the Tesco Express on Hurst St in the city centre has just been robbed again quite heavily and that organised gang activity is still going on across the city centre. Stay alert people, and don't leave your houses.
Unmanned Police station, Holyhead Road in Handsworth, set ablaze. Police have confirmed, BBC WM confirmed at 01:00 news bulletin.

Stay classy.

00:53: @CaseyRain posted an interesting piece voicing his thoughts on tonight's events, recommended reading. (he's updating the Birmingham Riots 2011 tumblr).
00:51: Raj, caller in to BBC WM reports shops looted, Lloyds Bank broken into; phone shops, jewellery shops all broken into – upturned car. Soho Road 'is a nightmare, it's a warzone. Reminds me of 1985, of 1981. … Glass everywhere, bins overturned.' A41 has been roadblocked by Police in both directions. Police are currently assembled near new Sikh temple with community members guarding the gates along with the Grove Lane centre.
00:50: Council Leaders Appeal for Calm, latest update from Birmingham Newsroom:
Council Leaders at Birmingham City Council have appealed for calm, following unrest in the city this evening (8th August).

Cllr Paul Tilsley, Deputy Leader of Birmingham City Council, said:

"We are appealing to people within the city to remain calm and allow the police and others to do their job in bringing these incidents under control.

"To help achieve this it is important that as many people as possible leave the streets. We urge all parents within the city to get in touch with any children or young people not currently at home asking them to return.
"The City Council will be making every effort possible from first light tomorrow to clear up any damage and bring normality back to the city as soon as possible. To this end we'd stress to retailers, workers and shoppers alike that the city remains very much open for business and would encourage them to come in as normal tomorrow."

ENDS
For more information please contact Simon Houltby 0121 303 3287
00:37: caller on BBC WM reports that "one random Asian channel" (which is apparently Sangat Television, Sky 847 – http://sangattrust.org) is reporting live direct from Soho Road in Handsworth! Brave people! Caller interestingly points out that nobody else is there reporting… Sangat Television's also streaming live on Justin.tv apparently but the police are moving them on.
Midnight update: Chief Superintendent Phil Kay, West Midlands Police (paraphrased as I typed whilst he was being interviewed):
'We've had some terrible scenes this evening, incredibly sad. Position atm is city centre is calm, unfortunately we've got some disorder on the Handsworth streets but far better than earlier this evening.

'There's an awful lot of rumour and myth; the police and community partners need to work hard to quosh those. Approx 300 people roaming throughout streets of Birmingham city centre.

'Incredibly dynamic; pockets of people moving very quickly throughout the city centre intent on causing damage and destruction.'

'Uncorroborated info from about lunchtime proliferating on social media sites; we responded in terms of a polcie response. Our commitment throguhout this has been to protect people of Brum, protect Brum which is a very safe city this evening – put a police response in place, our officers have acted commendably and very bravely throughout the course of this evening to protect the city.

Situation is fluid and is changing by the minute; the last figure is approx. 87 people arrested for an array of offences from burglary to violent disorder. Investigation has already started, much of what is taking place has been captured on CCTV and we will be unerring in our quest to bring these people – who brought shame to the streets of Birmingham – to justice.

Will be working with community leaders to track down culprits. Parents need to take responsibility for their childrens' whereabouts. Parents need to work with us to take control of their children and to know where they are to prevent any reoccurence.

Using the CCTV has been a tactic that's worked really well in the past for football hooliganism etc so at present its usage was felt to be justified.'
Waseem Zaffar, councillor for Birmingham Handsworth and Lozells on BBC WM: Soho Road is "absolute chaos", groups of youths roaming around that have "clearly targeted specific shops; mobile phone shops, electronics shops. There's a car overturned on Soho Road, rubbish everywhere. Police are out there, professional riot officers who've made their way across from the city centre, liaising with police. No point going out there. Kids creating havoc in Handsworth – it's the last thing Birmingham needed." Follow Waseem on Twitter @WaseemZaffar.
Listen to BBC WM for to-the-minute updates; BBC News has rolling coverage of London's riots.
Earlier, the Maplin on Temple Street was smashed to pieces. Soho Road in Handsworth is the source of sporadic reports of problems.
2254: Claire Marshall BBC News, Birmingham
We've seen the most extraordinary scenes. Walking through the streets, there was looting going on. I saw 100 or so young men with ski masks and hoods pulled down. They seemed to be very well-organised, communicating with each other on radio. The police were in force but they did not seem to know what to do. It's a really tense atmosphere here.
Police vans outside the Mailbox.

Computer Exchange in Birmingham city centre.

(via BR2011.tumblr)
23:22: Problems in Halesowen and sporadic problems in Wolverhampton earlier according to eyewitness via telephone, quieter now. (BBC WM)
freudinflop asked: I think it's worth mentioning that there's no signs of rioting in Wolverhampton, Walsall or Bloxwich apparently. People on my Facebook have said Wolverhampton is fine, and I rang my dad who lives in Bloxwich and he said nothing is going on. I think people are just trolling, which I think is disgusting. Just thought I'd say this because I got really scared about it.
(via BR2011.tumblr)
ROADS: The Aston Expressway is now closed inbound – thats from the motorway into the city centre itself.
BUSES: National Express are telling us that West Midlands buses are stopping at the inner ring road of Birmingham City Centre.
TRAINS: Birmingham New Street – travellers are being advised to use the main entrance ONLY as all other entrances are closed.
Via BRMB's Facebook Page.
23:15: Kevin Nichols, Harvey Nicks on BBC WM: 'Very organised, one person with brick, one person with wirecutters – literally within a few minutes, Armani was looted and they made off as police arrived. Walking around with their loot… putting it into carrier bags, showing no fear.'
23:10: Wolverhampton resident and advisor to the Government Dr. David Campbell interviewed via phone on BBC WM reporting that things are kicking off in the Bentley Bridge area, Walsall and now – MANCHESTER?!
23:09: 35 arrests in Birmingham to date, high number of juveniles. (BBC WM, Nicki Tapper and Richard Wilford on air until at least 2am.)
23:08: all Arriva buses terminating at Erdington Sixways. Final bus is ~23:10 then no more buses. Snowhill is the final station in and out of town, Moor Street's closed. Only one entrance and exit for New Street.
23:02: Chris Blakemore, BBC WM reporter braving the centre of town's reported that the Emporio Armani store outside Mailbox has been completely looted, nothing left. Unconfirmed reports of ~200 people 'attacking' the shop with weapons. Listen to BBC WM live online.
21:46: "Due to disturbances in Birmingham City Centre buses will terminate short of the city centre – see http://ow.ly/5Yazy for more details." (@nxbus on Twitter)
21:45, me: Video from earlier Birmingham rioting and looting now being shown on BBC News. Absolutely sickening.
21:40: @tom__stone: "Complete blue flashing lights to the right of my flat. Absolute madness in the jewellery quarter."
21:22: @SuptPayneWMP recommends: "If you are seeking updates on Birmingham disorder, follow @wmpolice or @brumpolice"
More updates and images from earlier after the jump…

21:21: @SimonJenner on Twitter: "Big group going up Newhall St towards Bennett hill"
@STwells on Twitter: Just drove through a 30 strong gang on Graham Street, Jewellery Quarter. Stay inside.
@MyJQ on Twitter: Police riot vans chasing masked youths in Birmingham Jewellery Quarter"
BBC Birmingham now has first article about violence: Gangs of youths and windows smashed in Birmingham


Adidas store, Bullring
Continued thanks to @CaseyRain on Twitter (birminghamriots2011.tumblr.com) who's continuing to gather pics, news and rumours from various contacts. Latest from there:
21:12: "Broadway Plaza just off Broad Street evacuated and all shops closing."
21:05: "Jewellery Quarter closed off now." Birmingham Hippodrome on lock down, high alert.

Cybercandy store, trashed (staff apparently still inside).
21:07, Croydon latest. Pub landlord talking a LOT of sense on BBC News.


A furniture store, in Croydon – Sunday saw the 1930s Carpetright building burnt to the ground. Bad time to run a housefittings store.
As it happens, and as I come across new details… Images and reports collated from various sources, mostly Twitter (all credited).
BirminghamRiots2011.tumblr.com has all the updates:

Foot Locker in the Bullring. Rumours that Apple store's been trashed, Primark set on fire, Selfridges came under attack but no fire (at least on webcam!), Cybercandy store, AVFC shop also targeted. Rumours that riot police are also protecting the Children's Hospital
Photos from earlier via @Graciouskisay, @simonjgray, @Jason_Ad_Grad, @SairaBagurai, @StileyBoy, @poppyseed_ respectively on Twitter:
http://twitpic.com/631w0o (Pallasades)
http://twitpic.com/631tix (Pallasades)
http://twitpic.com/632zcu (Corporation Street)
http://yfrog.com/h8362btj (Pallasades)
http://yfrog.com/kjc9wtdj (Pallasades)
http://lockerz.com/s/127805716 (Bullring)
http://yfrog.com/h3z06baj (by Primark, Corporation Street)
Via @cybrum on Twitter:
"I'm out of the city now, witnessed one instance of looting, lots of small groups of young people near House of Fraser, side streets blocked."
Via BirminghamRiots2011.tumblr.com:
"Unconfirmed reports of shops in The Mailbox getting boarded up."

Front of the Orange store in Birmingham. (20:28)
"Adidas shop getting looted in Birmingham right now. " (20:15)
"Rioters gathering in Paradise Forum now." (20:12)
"Apparently Birmingham New St train station has been closed and the Bus services are about to stop." (20:10)

T-Mobile, Corporation Street. (20:08)

Police in riot gear in Birmingham.

Orange shop in Birmingham City centre attacked. (on Corporation Street.)

McDonalds attacked in Birmingham (I was in there yesterday; just down from Colmore Row.)
2:49pm: "Corporation St, New St, Bullring and Pallasades are the main areas where trouble is brewing. Stay away, folks."
---
West Midlands Police statement, as reported on BBC News: http://bit.ly/nBlqwI
---
Via @Zaaay_ on Twitter:
Birmingham riot near Pallasades (Corporation Street, just up from New Street Station)
---
Via @StIvesCriminal on Twitter:
McDonalds, just down from Corporation Street.